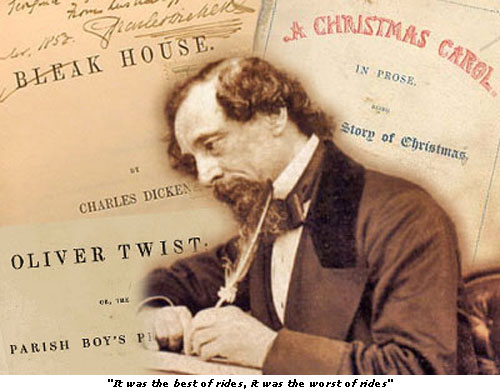 In December of 1843, at the age of thirty, Charles Dickens was already a well known writer whose fame in Europe and North America drew huge crowds when he was booked for book tours. He was married to Catherine Hogarth and the Christmas season of 1843 had the young couple expecting their fifth child.
As with most of his characters, Dickens own life was a rags to riches success story, but this December found the family in desperate need for money. Catherine's two younger sisters were living in the household along with Charles' younger brother Frederick. Book sales had been brisk, but the profit margin smaller than expected. Dickens felt that his publisher was at fault for this lack of profit, and he determined to take matters in his own hands.
Charles Dickens wrote intensely for six weeks and produced "A Christmas Carol"
When it was finished in early December, and he had written "The End" in huge letters, underlined three times, Dickens decided to by pass his negligent publishing house and publish the book himself.
Recognizing its potential value, he oversaw every aspect of its publication, and the final edition saw the book bound with gilt-edged pages, the title pages in a vibrant red and green, and four hand-colored etchings and wood cuts illustrating the now classic tale.
Just as he hoped, "A Christmas Carol", released on December 19, 1843, sold out its first edition of 6,000 copies by Christmas Eve. Unfortunately The book sales barely covered the expense of publication, and the hoed for profit of 1,000 pounds, was reduced to a bare 200 pounds.
The gift Charles Dickens gave to future readers, though, is priceless. "A Christmas Carol" is considered on of the most influential pieces ever written, and has become a part of Christmas tradition.
So, as was said of Ebeneezer Scrooge, who finally found the true spirit of the holiday and,
"…that he knew how to keep Christmas well, if any man alive possessed the knowledge…
"May that be truly said of us, and all of us!"
http://writersalmanac.publicradio.org